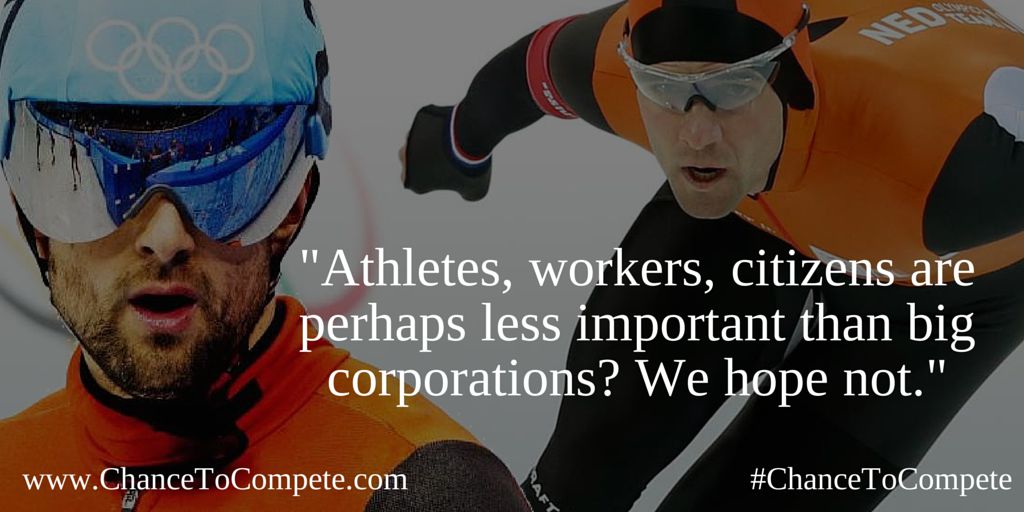 EU Athletes welcomes the
decision
 of the European Commission that International Skating Union (ISU) rules imposing severe penalties on athletes participating in unauthorized speed skating competitions are in breach of EU antitrust law. As a consequence, the ISU must now change these rules.
This landmark ruling is a result of a courageous decision of two Dutch speed skaters, Mark Tuitert and Niels Kerstholt to challenge their federation's (ISU) eligibility rules. The decision, announced on Friday the 8th of December, confirms that the ISU abused its dominant market position by imposing unfair and disproportionately punitive rules in order to enable the ISU to pursue its own commercial interests to the detriment of athletes and organizers of competing events.
EU Athletes has been supporting Mark and Niels through the #chancetocompete campaign and by representing the interest of all the European athletes that are or might be affected by similar rules imposed by their sport governing bodies.
We would like to congratulate and thank Mark and Niels for taking this difficult journey which now can significantly improve the situation of athletes around the World. Congratulations also to Ben Van Rompuy and his team for their impressive and successful legal work and representation.
We would also like to express our gratitude to the European Commission and Commissioner Margrethe Vestager for taking on this important case and rendering a wise decision, showing the sport governing bodies that they are not above the law.
For Jean-François Reymond, the General Secretary of EU Athletes: "We are extremely happy with this decision. The Olympic movement's attempts to put political pressure on the Commission have not unduly affected the outcome of the hearing. This landmark ruling shows that the specificity of sport cannot be used as an excuse to gain commercial benefit at the expense of athletes".
Brendon Batson OBE, the President of EU Athletes, added: "Sport governing must operate within the European legal framework and we are pleased that the European Commission has taken this important step. We hope that the sport organizations will now recognize that they cannot unilaterally decide on athletes' situation and that there is an urgent need for them to engage in a partnership with independent athlete organizations."