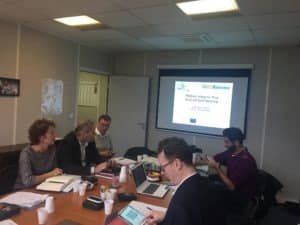 The first staff meeting of EU Athletes-coordinated Erasmus+ project PROtect Integrity Plus has taken place at Provale's office in Toulouse, France on the 26th of January 2018.
The project is a continuation of the succesful PROtect Integrity campaign against match-fixing, started back in 2010 in partnership with ESSA, EGBA and RGA. The new project, following on the need analysis and player feedback, aims to adapt and implement Red Button reporting app in 5 sports (basketball, futsal, handball, rugby, volleyball) in 7 European countries (Denmark, France, Greece, Italy, Ireland, Spain, UK) in order to make sure that athletes have a secure system available to report anything suspicious. Red Button was developped by JPY (Finish Football Players Association) and FIFPro, who will also be involved in the project to share their experiences. Project will also include academic research on reporting and the systsem's efficiency, led by prof. David Forrest (University of Liverpool).
Next stage of the project is the Red Button Meeting, which will take place in Helsinki, Finland, and will prepare project partners for the project implementation at the national level.