On the 7th of June, the EU Athletes General Assembly took place online due to the ongoing Covid-19 pandemic. Nearly 30 participants and representatives of player and athlete unions and associations from different sports and countries in Europe expressed their concerns for the circumstances and their hope to meet soon in person.
Despite the difficult situation for carrying on international projects and cooperation activities, the staff presented the positive results achieved by the association over the past year. In addition, Camille Delzant presented an innovative project coordinated by FNASS about professionalization of women's sport. The General Assembly agenda also included discussions about the current review of EU Athletes Common Position Paper and the plan to furtherly research into the effects of the pandemic on players and their player unions and associations.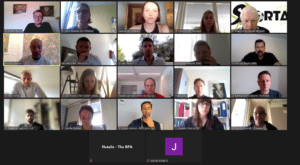 During the Assembly, members welcomed the development of a partnership between EU Athletes and FIFPro, and voted for Joachim Walltin, FIFPRO Europe General Secretary, to be part of the EU Athletes Board. Alessandro Marzoli (Giocatori Italiani Basket Associati) and Sander van der Holst (NL Sporter) were re-elected for the next terms. After contributing to EU Athletes' work for over 12 years in different roles, Jean-François Reymond decided to not stand for re-election as the Board member. EU Athletes members and staff thanked Jeff for his valuable efforts and commitment and wished him all best best in the future.