On 27-30 June, EU Athletes attended the 2022 edition of the Play the Game conference in Odense, Denmark. This event brought together various stakeholders in sport to discuss, debate, and find solutions to topical issues and threats facing international sport. Is there a cure for sport? was the theme of Play the Game 2022, which also marked the 25th anniversary of the organisation and its mission to promote democracy, transparency, and freedom of expression in the world of sport.
"Personally, I suffered from the illusion that as soon as the problems of corruption, doping, and abuse were brought into the public domain, someone would start tackling them and they would soon dwindle. Well, here we are, 25 years later, much richer in experience and somewhat poorer in illusions," Jens Sejer Andersen, international director of Play the Game, in his opening speech.
Issues that were addressed at the 2022 edition of the conference include the rise in athlete activism, the urgent reform of the Court of Arbitration for Sport, and the loss of faith in the anti-doping system after the Russian doping scandal. The panels outlined below were also of particular relevance to EU Athletes.
European Model of Sport – "broken beyond repair"
EU Athletes member Dejan Stefanović, the President of SSS, participated in the panel European Model of Sport: A pyramid, a church, or a world of variety? where the pros and cons of organising sport in a pyramid structure was discussed. There, he stressed that the traditional European Sports Model is "broken beyond repair". The views of Dejan go in line with the position of EU Athletes, as most recently expressed in EU Athletes Response to the Lobby for a 'European Sport Model'.
"Athletes' unions are weak because the European model denies them representation. The revenue distribution systems that are supposed to justify the model are ineffective. In the guise of supporting traditional values, the European model is protecting economic interests and monopolies." – Dejan Stefanović, President of SSS.
Proposal for independent sports integrity body
Viola von Cramon Taubadel, a German member of the European Parliament for the Green Party, informed the conference about an upcoming proposal from the Green Party bloc to set up a World Anti-Corruption Agency. She expressed criticism towards WADA in this regard and emphasized that we need to start from scratch in building a new independent foundation, based on input from various independent stakeholders.
"We need independent athlete representatives like EU Athletes" – Viola von Cramon Taubadel, MEP Greens/EFA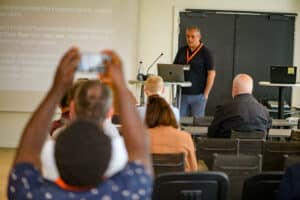 Photos: Thomas Søndergaard/Play the Game